Optimizing Distributor Profitability: Best Practices to a Stronger Bottom Line
Are you looking for a practical, actionable framework for improving your ROI and shareholder value? This best-selling book that does just that and more. Not only does it outline a framework and methodology for assessing and optimizing profitability, but it also breaks down the real-world application of best practices in each aspect of your business.
Based on research gathered from 84 wholesale distribution firms, this book outlines 47 best practices and how actual distributors have executed them in seven distributor functions: source, stock, store, sell, ship, supply chain planning and support services. It describes how these practices have improved shareholder value and how you can use them to do the same. You'll get 50 action steps you can take right away, detailed walk-throughs and a clear understanding of the link between processes and shareholder value.

Sales and Marketing Optimization: Developing Competitive Value Propositions in Distribution
Does your value proposition align with your customers' needs? If you don't assess and adjust your value to better serve your customers, even the most ardent sales and marketing teams won't be able to make the most of every customer relationship. Plus, in today's digital market, you're at greater risk of losing customers to companies with more strategic value propositions.
This book provides an actionable sales and marketing framework that you can customize to your business needs and goals. It features 30 best practices and 122 examples from actual wholesaler-distributors, as well as 60 action steps to apply in your business right away. It addresses valuable best practices in areas like market segmentation, business development, sales force stratification and more. It also emphasizes the connection between these processes and enhanced shareholder value.

Customer Stratification: Best Practices for Boosting Profitability
Not all customers create equal value, so why use the same strategy with all customers? Optimize the profitability of customer relationships by categorizing them and adjusting your approach accordingly. This is known as customer stratification and it's a relatively new strategy in the distribution business. This books acts as a pioneering study and guide based on real-world experiences that can get you up to speed and on to greater profitability.
Using research compiled from 68 wholesaler-distributors that have implemented customer stratification models, this book presents the best practices for stratifying customers. It provides a framework and 20 action steps to achieve greater customer value. You'll learn how to assess each relationship according to buying power, customer loyalty, profitability and cost-to-serve. Then, you'll get a roadmap to creating greater value by addressing increased revenue, decreased expenses and optimal allocation of assets.

Driving Profitable Growth: A Distributor's Playbook to Generate-Manage-Sustain Competitive Advantage
As a distributor, you know that growth is vital to success. Accomplishing that growth can be a difficult task in today's market. If you had a research- and data-based roadmap that accounted for the current state of the market, your efforts could be exponentially more effective.
This book outlines and proposes a playbook for generating, managing and sustaining growth in the distribution industry. It presents 95 best practices and 40 action steps companies can put to work immediately, as well as nine growth strategies and how to manage them. It also provides a framework for avoiding common mistakes and overcoming blind spots that even the most accomplished distributors encounter in their businesses.

Unlock the Power of Inventory Analytics: Aligning Working Capital in Customer Experience to Maintain Your Bottom Line
Technology is rapidly changing the way the market operates from both the distributors' and customers' perspectives. The sooner you gain an understanding of how analytics can play a role in your business — and the sooner you put them to work — the better your chances of staying profitable and competitive.
This book proposes an inventory management framework based on 15 years' worth of data and research collected from actual distributors. It presents 24 best practices and 43 action steps for using inventory analytics to effectively manage your working capital in order to enhance profitability today and into the ever-digital future.

Pricing Optimization: Striking the Right Balance for Margin Advantage
If your strategy is to allow pricing decisions to ebb and flow on an individual level as your salespeople see fit, chances are you have inconsistent and complex pricing. The result of inconsistent and unmanaged complexity? Margin erosion. A better way to approach pricing is with a proven framework based on research and data.
This book provides that proven framework, which you can implement in your business right away to stop margin erosion and optimize your pricing decisions. It presents nine best practices and 40 action steps based on experiences from real distributors. You'll gain the tools necessary to approach pricing strategically, use data that you already have, and make your findings actionable for your sales teams so you can improve your margins and increase your ROI.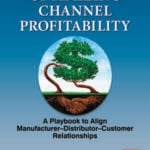 Optimizing Channel Profitability: A Playbook to Align Manufacturer–Distributor–Customer Relationships
The result is a comprehensive Channel Alignment Framework that presents a menu of creative channel compensation forms that can help distributors and their suppliers develop various channel capabilities that can create value for end customers. The focus is on making a one-to-one connection among a supplier's channel compensation, a distributor's capabilities and customer value, all leading to a process where all three entities can have constructive, objective dialogue rather than subjective, selective fault-finding. The framework ends with linking how distributors can capture value from customers and how it is linked to their financial goals.