ACTvantage FUSION Analytics Dashboard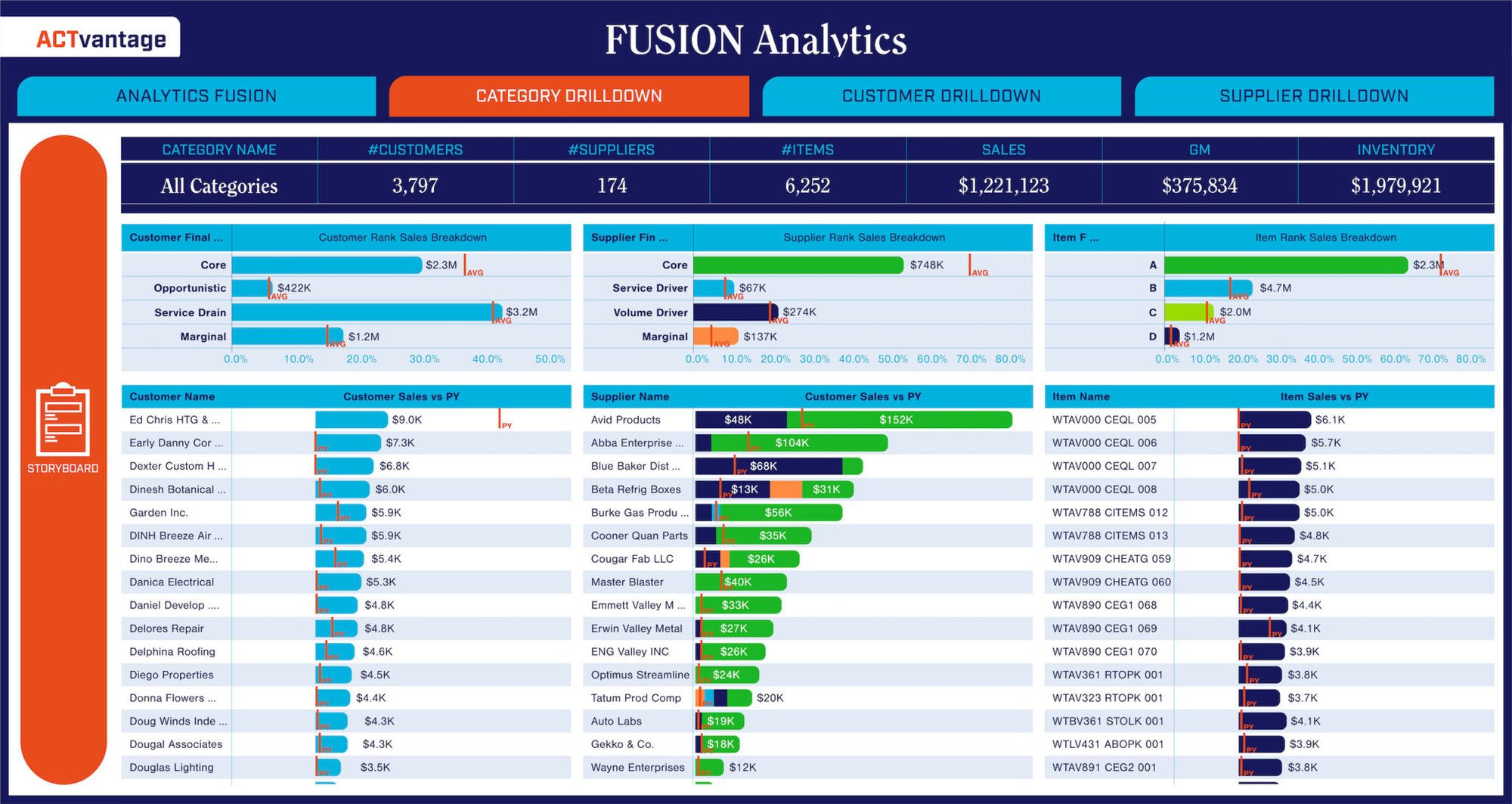 The purpose of a business is to create a customer. The largest asset in the distributors' balance sheet is inventory. The suppliers enable distributors to serve the customer. You can have a profitable business only if you can serve CORE customers with CRITICAL inventory from STRATEGIC vendors. Sounds simple? Not so fast! The complexity grows when you manage thousands of items serving thousands of customers while working with hundreds of suppliers. The traditional approach is divide-and-conquer, which leads to silo-based functional thinking (a.k.a. purchasing, sales, etc.). While the functional system breaks the complexity, it limits visibility, leading to sub-optimal decisions. How? Here's a typical example.
Purchasing team identifies slow-moving, low-profit inventory. It recommends rebalancing the inventory investment to the management. The sales team pushes back, leading to prolonged internal conflicts and dead stock (and a lot of bad blood and ensuing politics!)
What if purchasing knows not only "D" inventory (less critical, slow-moving, low-profit items) but also the drill down of the same by four customer quadrants of customer stratification? This enables the inventory team to answer the traditional pushback from the sales when rebalancing inventory into higher ranks. Rather than removing all "D" items, now the purchasing team can make granular decisions of eliminating "D" items bought by "marginal" customers while retaining the "D" items consumed by "core" customers.
Going one step further, what if you can see any of these "D" items are from the "strategic" vendors so that elimination or return becomes far quicker than "non-strategic" vendors? Now, you have entirely de-risked your inventory rebalancing efforts by protecting profitable customers and strategic vendors. (and a ton of frustration from the purchasing team and agony from the sales team!)
All of the above is now a few clicks away with FUSION analytics, which breaks silos by connecting inventory-customer-supplier performances seamlessly. At ACTvantage, we help you target what you can control using your data, research-based best practices from seven NAW best-selling books, and best-of-breed analytics.
We bring FUSION Analytics: An actionable view of your profitable business at the intersection of CORE customers, PROFITABLE inventory, and CORE supplier mix with robust benchmarking to increase accountability and break down data silos.
What is FUSION Analytics?
Based on our ground-breaking research and best-selling book – Driving Profitable Growth, our cloud platform redefines your inventory and growth performance by breaking the silos among purchasing, sales, and supplier management while focusing on product availability and profitability.
Provides an easy way to manage the complexity of thousands of stock items through a priority lens

Offers a decision lens to manage thousands of customers through an applied cost-to-serve model

Presents a comprehensive view of supplier performance, going beyond traditional scorecards

Helps counter pushback from the salesforce by connecting inventory decisions to customers

Mitigate inventory risks by stocking the right inventory for your CORE customers
Our platform presents over 20 actionable playbooks, going beyond traditional approaches to help distributors adopt a holistic view of the profitable customer-inventory-supplier mix.
Align your CORE customers' needs with STRATEGIC suppliers' products while optimizing your INVENTORY with ActVantage's FUSION Analytics.
"The classification of inventory based on item level profitability has helped us reduce the capital employed. We expect to benefit from further decreases."
Head of Supply Chain
Packaging Distributor
"ACTvantage insights and tools will lead my company into future profitability and growth."
President
Building Materials Distributor
"The information from the platform is beneficial, pragmatic, and quickly applicable to our business. We have realized some early wins and anticipate a greater positive impact in our business."
VP Purchasing
Fluid Power Distributor