ACTvantage Inventory FOCUS+ Dashboard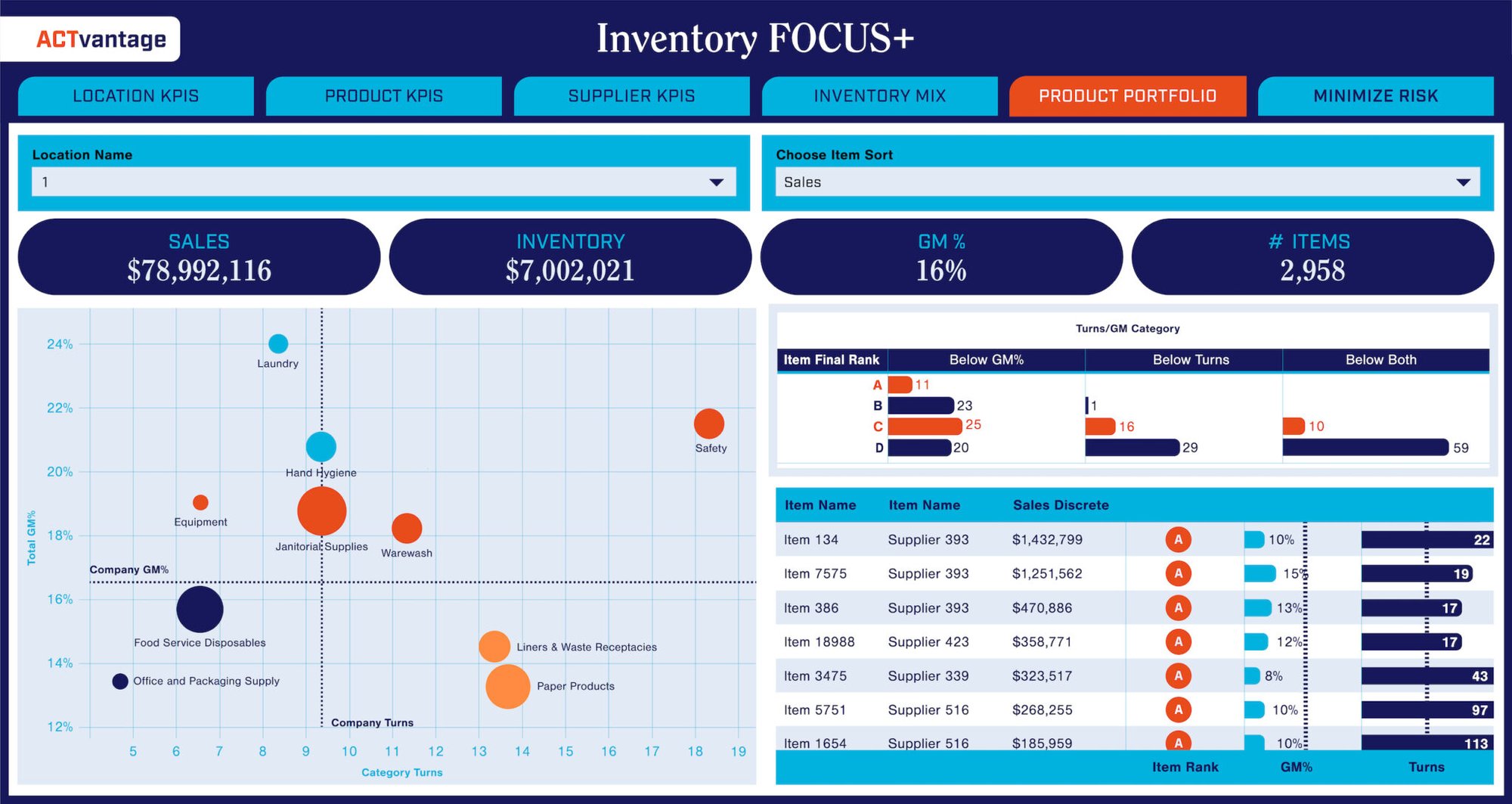 In our best-selling book we co-authored and published through the NAW on inventory stratification, we stress that NOT ALL ITEMS ARE CREATED EQUAL (and they shouldn't be managed as equal!). The problem is that most distributors' purchasing departments and inventory management personnel fail to act on this wisdom. The primary reason? COMPLEXITY! Most inventory models are far too complex, which makes it nearly impossible to actively manage several things at once – from SKU (Stock Keeping Unit) proliferation, to supplier performance, to discounts, to rebates, and to purchasing price variances in the marketplace. We turn this complexity on its head by offering a systematic, easy-to-comprehend model that can be rolled out, taught, and implemented company-wide to dramatically improve working capital (turns, GMROII – Gross Margin Return On Inventory Investment, etc.) and drive profitable growth.
Since its inception, we have implemented our inventory stratification model across hundreds of distributors and manufacturers in B2B industries across verticals ranging from building materials, HVAC, industrials, plastics, foodservice, oil and gas, electrical, electronics, grocery chains, and chemicals, to name several.
The ACTvantage Approach
Ourr approach is rooted in helping distributors develop a sustainable analytics capability rather than simply deliver a one-time, short-term model or software application. Are they two different things? We believe so, based on researching more than 250 successful implementations of analytics engagements.We have helped hundreds of distributors successfully implement inventory stratification. Over the years, we studied those implementations and asked the critical question:
Why have our customers been able to sustain the benefits (order fill rates, service levels, optimal inventory levels, product-mix, profitability, etc.) of attempting to integrate analytics into their DNA?
It's not just the quality of the tools or technology or software – though those are an important part of the mix. Firms that sustained the benefits of analytics have worked with us to integrate four critical sources of institutional capital – Process, Technology and Organization and, most importantly, PEOPLE – to creatively develop analytics as a capability. Our platform and our framework is the result of this key learning.
Inventory FOCUS+ Benefits
For Inventory Managers
Acts as an inventory management platform
A bridge to devise buyer-specific goals
A common language to drive working capital efficiency
A tool to develop customer-focused culture
For Buyers and the Salesforce
An inventory playbook for spend / cost management
Acts as an advisor for analytics-based strategies

PREDICT at-risk A and B items
PROVIDE product-customer-specific actions
PINPOINT the next A items to build stocking pipeline

For Top Management
Acts as a compass for Profitable Growth
Establish a common language for focused actions
Helps monitor working capital productivity and performance
Focus on leading indicators than lagging indicators
"Inventory stratification gives you a no-nonsense approach to looking at inventory. It gives you a baseline to avoid the blanket rules that most businesses apply and provides a focus on what is important."
Materials Manager
Industrial Distributor
"Using the techniques and tools from the inventory management program, we reduced our total inventory by more than 20%."
CEO
Building Materials Distributor
"The classification of inventory based on item level profitability has helped us reduce the capital employed. We expect to benefit from further decreases."
Head of Supply Chain
Metals Distributor