ACTvantage Supplier FOCUS+ Dashboard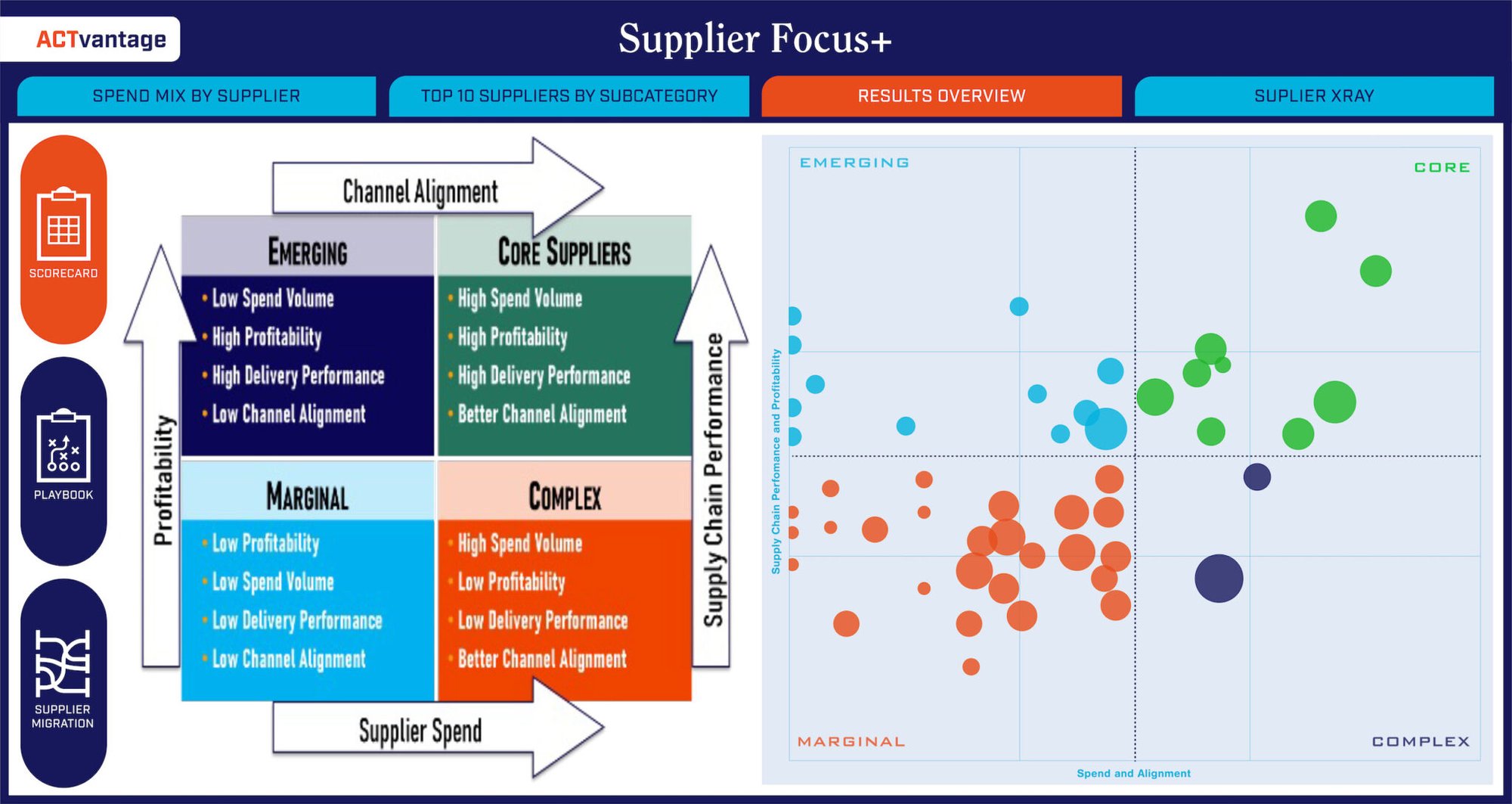 Supply chain disruptions are forcing distributors to reinvent how to manage supplier relationships.
Distributors face three common challenges:
Unable to hold suppliers accountable for consistent supply chain performance and inventory investments, leading to internal confusion and frustration

Unable to synergize scattered spending across hundreds of small suppliers, leading to increased COGS and reduced margins

Unable to provide actionable insights and benchmarks to suppliers for improving their performance
Sound familiar? Over-stretched internal resources and a lack of robust supplier analytics are the common root causes for the above challenges. In addition, macro factors are out of control.
But what is controllable?
At ActVantage, we help you target what you can control using core supply chain principles and best-of-breed analytics.
We bring SUPPLIER FOCUS+: A 360 view of every supplier that provides robust benchmarking to increase accountability while integrating customer, inventory, and pricing insights to break down data silos.
What is SUPPLIER FOCUS+?
Based on our ground-breaking research and best-selling book – Optimizing Channel Profitability, our cloud platform redefines your supplier relationships based on growth, profitability, alignment, and supply chain performance.
Puts in place critical benchmarks to hold suppliers accountable for their performance

Provides leverage in supplier negotiations to secure lower prices and better terms

Provides visibility into supply chain risks so that you can proactively secure backup sources

Refocuses supplier efforts to drive sales, margins, and customer satisfaction.
Our platform presents over 20 actionable playbooks, going beyond traditional supplier scorecards to help distributors to adopt a holistic view of modern supply chains.
Align your CORE customers' needs with STRATEGIC suppliers' products while optimizing your INVENTORY with ActVantage's SUPPLIER FOCUS+.
So, what is the Return on Investment (ROI) from SUPPLIER FOCUS+?
One distributor reduced purchasing costs by 15%. They reduced their suppliers from 27 to 13 in their largest product category, leading to more rebates and control.

A distributor improved payment terms by 52% by sharing supplier performance analytics and actionable insights; it also got more attention and mindshare from core suppliers.

One distributor increased their service level to customers by 6% and rebates by 7.5%.
"The analysis and easy-to-use and digest playbooks from ACTvantage have helped reduce costs, gain margins and strengthen partnerships with our vendor community. We improved vendor payment terms through focused negotiation – from Net 30 to Net 45."
VP Supply Chain and Vendor Relations
Large Distributor
"We are enjoying the content! It affirms some of the things that we've already been doing, but we're also learning some new things. ACTvantage's training has led us to some good internal discussions, and we're developing some common language."
President
HVAC Distributor
"This program is created from real data that forms theories, develop strategies, and arrives at practical ways to improve profitability. An approach that should be part of the future of distribution."
Manager
Electrical Distributor